Description
Professional 35% Star Teeth Whitening™ Gel
Our 35% whitening gel is the most popular strength cosmetic dentists use. It has been shown to be the most powerful and effective whitening gel offered today. Studies have shown that 35% carbamide peroxide is one of the safest teeth whitening technique with little to no tooth sensitivity. Below is a list of our refill gels to maintain your white smile. With the amazing range of teeth whitening gels available in the world today, people certainly have a lot of options. As a matter of fact, cosmetic dentistry has been through a lot of changes and modifications that has actually helped in bringing out some of the best range of whitening products.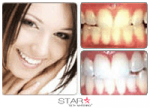 Because having bright, white teeth has now become an aesthetic requirement for every body, people are taking keen interest on enhancing the quality of their smile. The use of our 35% Teeth Whitening Gel helps in retaining the whiteness of teeth, removes all stains and discolorations, and gives you a pleasant and attractive smile.
There are different range of teeth whitening having, having higher to lower concentrations of bleaching agent, which is carbamide peroxide. Here, we are discussing the 35% Teeth Whitening Gel by Start teeth whitening, which is one of the best quality whitening gels available on the market. The goodness of Star teeth whitening products lie in the fact that these are made by expert cosmetic dentist after years of research and investigation. Even the strongest concentration of carbamide peroxide teeth whitening gel is gentle on the teeth and has no effects on the gums and soft tissues. That makes this brand very popular amongst the masses.
DO NOT USE IF: pregnant/nursing, poor dental health (decayed teeth, exposed roots, gum disease, wear braces, recent oral surgery, jaw problems). At-home treatments have risks involved and you should consult your dentist. Some people will experience reversible tooth sensitivity and gum irritation. This will disappear: 1.Within a few days after discontinuing use 2. Decreasing the time you bleach your teeth 3. Increasing the amount of time between bleaching sessions.

Applying The 35% Peroxide Gel
Brush and floss teeth before beginning the any at-home treatment. Assuming you already have custom mouth trays, place a small bead of gel in the frontal portions of the trays ( area exposing the teeth). Let trays sit in your mouth for approx. 30 minutes. Continue to bleach your teeth once a day for a whiter, professional smile.

How It Works:
The active ingredients in the gel is 35% carbamide peroxide and 1% hydrogen peroxide. As the peroxide decomposes in saliva, oxygen released by the reaction enters the enamel and dentin. This process bleaches the discolored portions of the teeth while leaving the structure of the tooth unchanged. The pH of the 35% gel is 7.0.
Procedure Length:
After the initial recommended oral exam, the procedure should be completed in one office visit or three to ten home applications. The procedure begins with a preparation period (wetting of teeth and isolation of tissue) followed by one or two 30-minute sessions of bleaching with an optional fourth 15-minute session to be dispensed at the discretion of the user or dental practitioner.
---
You'll love your new smile – We guarantee it!
Star Teeth Whitening™ is committed to bringing our customers the very best in professional at-home teeth whitening. Our gels are developed by the leading cosmetic dentist and are used everyday by dentists worldwide. We guarantee that you will see a much brighter, whiter smile, we offer a no questions asked 30-day money back guarantee.
See results of 7-10 shades in 10 days or less or receive a full refund. Its our promise to you that you will be 100% satisfied with your purchase and continue shopping with us in the future.